for

Health Care Providers
Depression
Note: Some medications mentioned in this chapter may not be available on the VHA National Formulary. Consult VA pharmacists for alternatives.
Key Points
Depression can be a life-threatening disorder.
Depression among HIV-infected persons is common and is associated with increased high-risk behavior, nonadherence to ART, and progression of immunodeficiency.
Depression can be diagnosed and treatment can be initiated in the primary care setting.
Tools such as the PHQ-9 can be used for screening and for ongoing monitoring of patients identified as depressed.
Potentially treatable causes of secondary depressive symptoms in HIV-infected persons should be investigated and treated.
Antidepressant medication and psychotherapy both are effective for treating depression in HIV-infected persons.
Linking Primary Care and Mental Health Care Services in the Treatment of Depression
VA medical centers and community-based outpatient clinics are now integrating mental health services into primary care settings. The model on which these clinics are structured and their services are delivered varies from one facility to another, but primary care providers should be knowledgeable about when they should refer for mental health consultation and when they can successfully treat depressive symptoms themselves.
When to Refer
Indications for referring depressed patients to a mental health care provider:
Disabling symptoms
Suicidal thought with plan or intent
Severe hopelessness or negativism
Persistent agitation
Psychotic symptoms
Pronounced affective instability
Suspected bipolar disorder
3 or more ineffective therapeutic trials of antidepressant medication
Complicated psychopharmacologic regimens requiring medications that the care provider is not experienced in prescribing
Need for tricyclic antidepressants (TCAs)
Maladaptive social functioning
Background
Lifetime prevalence of depression among HIV-infected persons in the United States is 20-40%, up to 2-fold higher than it is among HIV-uninfected persons. Among veterans, this percentage may even be higher (see box at right).
The risk of suicide mortality in HIV-infected persons is 3-5 times higher than in HIV-uninfected counterparts, despite the availability of ART.
Depression increases the risk of acquiring HIV infection and the likelihood of high-risk sexual behavior among persons already infected with HIV. Depression is associated with nonadherence to ART, progression of HIV disease, and decline in CD4 cell count.
Treatment of depression improves adherence to ART.
Evaluation
Note: The VA has published guidelines for evaluation and treatment of depression; see References.
Screening
Recommended Screening for Depression in Primary Care Settings
The VA recommends using the PHQ-2 and PHQ-9 instruments to screen for depression in the primary care setting, a use for which they are validated, and recommends that the result of screens be entered in the chart on the day they are administered. Telephone screening is acceptable, provided that positive screening results are addressed by appropriate risk assessments and interventions.
PHQ-2 and PHQ-9
The PHQ-2 is a 2-question screen. The maximum score is 6, and a positive score is 3. If the PHQ-2 result is negative, further screening is unnecessary. If the PHQ-2 result is positive, the patient must be screened on the same day with the PHQ-9, with responses to all questions and the summary score to be recorded in the patient's chart. Alternatively, the patient can be screened with the PHQ-9 alone, with responses to all questions and the summary score to be recorded in the patient's chart.
Patients who screen positive for depression should be evaluated for risk factors that indicate a need for urgent intervention. Foremost in this process is an explicit assessment for the presence of suicidal ideation. After an evaluation of screening results and a discussion with the patient, the provider can decide whether the patient may benefit from urgent intervention or further specialized mental health evaluations.
Note: The CPRS Clinical Reminder supporting the standard PHQ-2 and PHQ-9 tools will display the questions comprising these instruments when the "Perform PHQ-2" and "Perform PHQ-9" buttons are clicked, and it allows for documentation of depression screen results, as shown: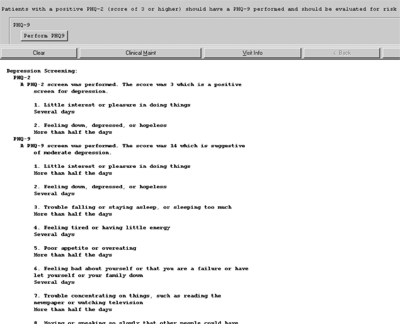 Acceptable screening is summarized as follows:
| Screening Tool Used | PHQ-2 Result | PHQ-9 Result |
| --- | --- | --- |
| If PHQ-2 initially used: | And result Negative, then: | Not required |
| If PHQ-2 initially used: | And result Positive, then: | Required on same day |
| If PHQ-9 initially used: | Not required | NA |
Patient Health Questionnaire - 2 (PHQ-2)
Copyright © 1999 Pfizer, Inc. All rights reserved.
Reproduced with permission.
Patient Name: ____________________ Date of Visit: __________
Over the past two weeks, how often have you been bothered by any of the following problems?
Not at all
Several days
More than half the days
Nearly every day
1. Little interest or pleasure in doing things
0
1
2
3
2. Feeling down, depressed, or hopeless
0
1
2
3
Total point score: _____
Scoring the PHQ-2
PHQ-2 Score
Probability of Major Depressive Disorder (%)
Probability of Any Depressive Disorder (%)
1
15.4
36.9
2
21.1
48.3
3
38.4
75.0
4
45.5
81.2
5
56.4
84.6
6
78.6
92.9
Patient Health Questionnaire - 9 (PHQ-9)
Over the last 2 weeks, how often have you been bothered by any of the following problems?
Not at all
Several days
More than half the days
Nearly every day
1. Little interest or pleasure in doing things
0
1
2
3
2. Feeling down, depressed, or hopeless
0
1
2
3
3. Trouble falling or staying asleep, or sleeping too much
0
1
2
3
4. Feeling tired or having little energy
0
1
2
3
5. Poor appetite or overeating
0
1
2
3
6. Feeling bad about yourself - or that you are a failure or have let yourself or your family down
0
1
2
3
7. Trouble concentrating on things, such as reading the newspaper or watching television
0
1
2
3
8. Moving or speaking so slowly that other people could have noticed, or the opposite - being so fidgety or restless that you have been moving around a lot more than usual
0
1
2
3
9. Thoughts that you would be better off dead, or of hurting yourself in some way
0
1
2
3
Add columns:
0
+ ____
+ _____
+ ____
= Total Score: _______
If you checked off any problems, how difficult have these problems made it for you to do your work, take care of things at home, or get along with other people?
Copyright © Pfizer Inc. All rights reserved. Reproduced with permission of Pfizer, Inc.
Not difficult at all
Somewhat difficult
Very difficult
Extremely difficult
Scoring the PHQ-9
| | |
| --- | --- |
| 1-4 | Minimal depression |
| 5-9 | Mild depression |
| 10-14 | Moderate depression |
| 15-19 | Moderately severe depression |
| 20-27 | Severe depression |
Clinicians should be particularly alert to patients' responses to question 9, "Thoughts that you would be better off dead, or of hurting yourself in some way." Any affirmative response to question 9, or a PHQ-9 score of >9, requires that a suicide risk assessment be completed within 24 hours (see below).
The PHQ-9 is validated for use only with English-speaking persons of European origin; some experts feel it is less sensitive for depression in many patients with Asian or Latino backgrounds. As with all symptom questionnaires, assessment results should be interpreted and guided by clinical experience.
Depressive symptoms may be associated with illnesses other than major depression
Given the overlap between symptoms of depression and symptoms of other illnesses and medication side effects common among HIV-infected persons, all potentially treatable or reversible causes of depression (see list below) should be considered when HIV-infected persons present with depressive symptoms.
* EFV is associated with CNS side effects, anxiety, and disturbed sleep (these usually resolve with time), but it has not been shown to convey a higher risk of depressive disorders.
Screening

PHQ-2 (see above)
PHQ-9 (see above)

History

Relationship between onset of depression symptoms and major life stressors
Concurrent chronic disease
Medication history, including recent changes
Use of alcohol or other psychoactive drugs, whether legal or illegal
Past history of depression
Suicidal thoughts
Family history of mental illness

Physical examination

Mini mental status
Neurologic screening
Signs of hypogonadism
Signs of hypothyroidism

Laboratory studies

Serum electrolytes
BUN/creatinine
Calcium (for hypercalcemia)
CBC (for anemia)
TSH
Serum testosterone
Hepatitis serologies
RPR

Differential diagnosis

Mood disorders

Major depression
Bipolar affective disorder
Dysthymia (minor depression)
Demoralization

Drug use
Alcohol use/abuse
Anemia
HIV-associated dementia, other dementia
Hypercalcemia
Renal failure
Hepatitis
Hypothyroidism
Hypogonadism
Drug effects or side effects (eg, EFV*, anabolic steroids, corticosteroids, sedative-hypnotics, beta-blockers, interferon-containing hepatitis C therapy, alcohol, methamphetamine withdrawal)
CNS infections
CNS neoplasms
Assessment of suicide risk
Veteran suicide is emerging as a serious public health issue, and HIV infection also puts patients at risk of suicidality. Primary care providers are on the front line in identifying veterans with risk factors for suicide and ensuring they receive appropriate interventions. An affirmative response to questions about suicidality on screening instruments, such as the PHQ-9, should prompt further investigation. When the PHQ-9 is used, a score of >9 or any affirmative response to question 9 requires that a suicide risk assessment be performed within 24 hours; ideally, this risk assessment should immediately follow a positive screening result for depression.
Such assessments may be performed by telephone, provided that the assessment is made by an acceptable provider, and that the results are appropriately documented. An acceptable provider is an MD, NP, DO, PsyD or PhD Psychologist, LCSW, APN, PA (or a trainee with appropriate cosignature), or other allied health care professional who, by virtue of educational background and approved credentialing, privileging, or scope of practice, has been determined by the facility to be capable of diagnosing and treating mental illness.
All VA medical centers now have a designated suicide prevention coordinator, whose role includes providing general consultation to clinicians concerning risk assessment, providing resources for suicidal individuals, and ensuring that high-risk patients receive education and support about approaches to reduce risks.
The CPRS contains a detailed suicide risk assessment template. To assess patients for suicide risk:
Look for warning signs
Assess for risk and protective factors
Ask the questions
1. Look for warning signs
Threatening to hurt or kill self
Looking for ways to kill self; seeking access to pills, weapons, or other means
Talking or writing about death, dying, or suicide
Any of the above warning signs requires immediate attention and referral. Consider hospitalization for safety until complete assessment may be made.

Additional warning signs include:
Hopelessness
Rage, anger, seeking revenge
Acting reckless or engaging in risky activities, seemingly without thinking
Feeling trapped - like there's no way out
Increasing alcohol or drug abuse
Withdrawing from friends, family, or society
Anxiety, agitation, unable to sleep or sleeping all the time
Dramatic changes in mood
No reason for living, no sense of purpose in life
2. Assess for risk and protective factors
Factors that may increase risk for suicide
Current ideation, intent, plan, access to means (eg, weapons or drugs that may be lethal)
Previous suicide attempt or attempts
Alcohol or substance abuse
Previous history of psychiatric diagnosis
Impulsivity and poor self-control
Hopelessness - presence, duration, severity
Recent losses - physical, financial, personal
Recent discharge from an inpatient unit
Family history of suicide
History of abuse (physical, sexual, or emotional)
Comorbid health problems, especially a newly diagnosed problem or worsening symptoms
Age, gender, race (elderly or young adult, unmarried, white, male, living alone)
Same-sex sexual orientation
Transgender identity
Factors that may decrease risk for suicide
Positive social support
Spirituality
Sense of responsibility to family
Children in the home, pregnancy
Life satisfaction
Reality-testing ability
Positive coping skills
Positive problem-solving skills
Positive therapeutic relationship
3. Ask the questions
(Note:Asking about suicide does not induce patients to contemplate killing themselves.)
Are you feeling hopeless about the present/future? If yes, ask ...
Have you had thoughts about taking your life? If yes, ask ...
When did you have these thoughts and do you have a plan to take your life?
Have you ever had a suicide attempt?
Response to suicide risk
Assure the patient's immediate safety and determine the most appropriate treatment setting
Refer for mental health treatment or assure that follow-up appointment is made
Consult with the facility suicide prevention coordinator
Inform and involve someone close to the patient
Limit access to means of suicide, including weapons
Increase contact and make a commitment to help the patient through the crisis
Provide number of emergency department or urgent care center to the patient and significant others
National Crisis Line (formerly the National Suicide Prevention Lifeline): 800-273-TALK (800-273-8255)
Management
Patients with depressive symptoms who do not require referral to a mental health provider (see When to Refer) may be managed safely in the primary care setting. There is evidence that treatment with SSRIs, SNRIs, or TCAs is superior to placebo in relieving symptoms of depression in HIV-infected patients. However, a surprisingly high proportion of placebo recipients in clinical studies also experience symptom relief.
Psychotherapy of many kinds, including cognitive behavioral therapy, social support counseling, and individual psychodynamic therapy, is also effective in treating depression in HIV-infected patients. Comparison of methods is complicated by differences in definitions of depression used in various studies and by the heterogeneity of various scoring instruments.
Interestingly, a study of the effect of treatment of depression on adherence to ART found that participants treated with psychotherapy or psychotherapy plus medication were more adherent to ART than those treated with medication alone, or with placebo.
Exercise, even in moderate amounts, may improve or help prevent depressive symptoms.
An SSRI or an SNRI usually is recommended as initial pharmacotherapy for depression, because of their efficacy and safety profile. A patient requiring pharmacologic therapy with an agent (particularly a TCA or an MAOI) probably should be managed in collaboration with a psychiatrist. Of the SSRIs, citalopram and escitalopram have minimal interactions with ARVs and therefore are frequently chosen for patients on concomitant ART.
Response to Pharmacotherapy
Patients typically start responding to SSRIs in 2-4 weeks.
Patients who show no improvement on maximal-dose therapy after 8 weeks should be switched to another medication or be referred to a psychiatrist.
Suicidality may remain or emerge during the first several weeks of pharmacologic therapy, even as depression seems to decrease; close follow-up is recommended, with screening for suicidality (see above) as needed.
SSRI Discontinuation Syndrome
SSRIs and SNRIs should be tapered slowly rather than discontinued abruptly. Side effects associated with abrupt discontinuation include dizziness, irritability, anxiety, chills, myalgias, and nausea. Symptoms typically occur 1 day after discontinuing and can last up to 2 weeks. They remit when the drug is restarted. The discontinuation syndrome is more likely with venlafaxine and shorter-acting SSRIs, such as paroxetine, than with longer-acting agents, such as fluoxetine.
Table 1. Antidepressant Medications: Drug Dosing and Interactions with ARVs
Generic Drug Name
Usual Starting Dosage/Dosage Titration
Comments/Drug Interactions
SSRIs

Pros: Favored by some experts because of low potential for fatal overdose
Cons: Risk of discontinuation symptoms (see above) with certain agents if discontinued abruptly
Increased risk of suicidality among children and young adults with depression during first month of taking SSRIs
Most common side effects: sexual dysfunction, nausea, sweating, sleep disturbance
Contraindicated for use with monoamine oxidase inhibitors (MAOIs) or triptans because of risk of serotonin syndrome
Interactions with ARVs incompletely studied

Citalopram
Start at 10-20 mg QD; may increase daily dosage after 7 days, if no adverse effects; maximum dosage: 60 mg QD
Metabolized by CYP 3A4; however, no significant change in citalopram levels when coadministered with RTV, and no dosage adjustment required
Escitalopram
Start at 5-10 mg QD; may increase daily dosage after 7 days, but no evidence of increased efficacy; maximum dosage: 20 mg QD
Metabolized by mixture of enzymes, including CYP 3A4; however, no significant change in citalopram levels when coadministered with RTV, and no dosage adjustment required
Fluoxetine
Start at 10-20 mg QD; not to exceed 80 mg QD

Also available in weekly dose formulation: 90 mg once weekly
Metabolized by CYP 2D6; may increase RTV AUC by 20% but no adjustment required when coadministered with RTV
Paroxetine
Start at 10-20 mg QD; may increase daily dosage by 10 mg every 7 days to maximum of 50 mg QD

DRV and FPV decrease paroxetine levels; titrate paroxetine to effect
Must be tapered slowly when discontinuing to avoid rebound depression symptoms and discontinuation symptoms
Slightly more sedating than other SSRIs

Sertraline
Start at 50 mg QD; may increase daily dosage by 25-50 mg every 7 days to maximum of 200 mg QD
DRV decreases sertraline levels; titrate sertraline to effect
SNRIs

Increased presynaptic levels of serotonin and norepinephrine
Also approved for treatment of neuropathic pain and peripheral neuropathy
Most common side effects: GI events (nausea, diarrhea, constipation), dry mouth
Other side effects: somnolence, insomnia, dizziness, nervousness, headache; sexual dysfunction can occur

Duloxetine
Start at 20 mg QD; may increase to BID, then to 60 mg QD or divided as 30 mg BID

Hepatically metabolized; not recommended for use in patients with hepatic impairment
To discontinue, taper gradually

Venlafaxine Formulations
Venlafaxine immediate release
Start at daily dosage of 75 mg divided BID (ie, 37.5 mg BID) or TID (ie, 25 mg TID) with food; may increase total daily dosage by up to 25 mg per dose every 4 days; maximum daily dosage: 375 mg divided TID (ie, 125 mg TID)

Metabolized by CYP 2D6
When stopping venlafaxine, it is essential to taper slowly to avoid discontinuation symptoms
Postmarketing studies suggest that venlafaxine overdoses are more associated with fatal outcomes than are SSRI overdoses, but less than TCA overdoses; use lowest effective dosage of venlafaxine

Venlafaxine extended release (XR)
Start at 75 mg venlafaxine XR QD with food; may increase daily dosage by up to 75 mg every 4 days; maximum daily dosage: 225 mg
Other
Bupropion Formulations
Bupropion

Inhibits CYP 2D6
EFV, KaletraLPV/-r, and TPV decrease bupropion levels; titrate bupropion to effect
Side effects: restlessness, agitation, insomnia
Bupropion increases seizure incidence (0.4% at 300 mg/day or higher); contraindicated in patients with elevated risk of seizures
Sexual dysfunction unlikely

Bupropion immediate release
Start at 75-100 mg BID for 3 days, increase to 100 mg TID on day 4; maximum daily dosage: 450 mg divided TID

No single dose should exceed 150 mg, and doses should be taken at least 6 hours apart
Dosage escalation should be delayed for agitation, motor restlessness, or insomnia

Bupropion SR
Start at 100-150 mg QAM; increase to usual dosage of 150 mg BID no earlier than day 4; maximum daily dosage: 400 mg divided BID (ie, 200 mg BID)

Doses of bupropion SR should be taken at least 8 hours apart
Dosage escalation should be delayed for agitation, motor restlessness, or insomnia

Bupropion XR
Start at 150 mg QAM; increase to usual dose of 300 mg QAM no earlier than day 4; maximum dosage: 450 mg QD

Doses should be taken at least 24 hours apart
Dosage escalation should be delayed in the event of agitation, motor restlessness, or insomnia
References