for

Health Care Providers
National HIV/AIDS Clinicians' Consultation Center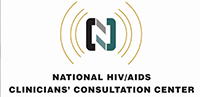 VA Clinical Public Health in collaboration with the National HIV/AIDS Clinicians' Consultation Center (NCCC) are proud to present a partnership to support VA clinicians in providing the highest quality HIV care to Veterans. The NCCC Warmline provides free expert telephone-based clinical consultation on HIV management, exposure, and prevention issues to healthcare providers of all experience levels throughout the United States. The NCCC receives about 15,000 calls a year from healthcare providers seeking advice on HIV treatment, prevention, and management topics such as antiretroviral regimens, drug-drug interactions, HIV testing, co-morbidities, and occupational exposures (i.e., needle sticks).
The Warmline is based at the University of California San Francisco/San Francisco General Hospital and is staffed by a collaborative multi-disciplinary consulting team of physicians, clinical pharmacists, and nurse practitioners. Availability of this service to VA callers will provide access to real-time consultation Monday through Friday from 9 a.m. to 8 p.m. Eastern Standard Time; calls received outside these hours will be answered on the next business day.
VA clinicians can access the warmline through 1-800-933-3413.
To learn more about NCCC, visit them at www.nccc.ucsf.edu

.