for

Veterans and the Public
Types of fat gain with HIV
Lipodystrophy involves two types of fat in the body. One type, called visceral fat, lines internal organs. Too much visceral fat can put a person at risk of a heart attack, stroke, or diabetes.
The other type, called subcutaneous fat, is right under the skin. This fat can be lost in HIV, leading to prominent veins in the arms and legs and changes in facial appearance. Loss of subcutaneous fat is not life threatening but can have serious effects on the way people see themselves. It can lead to depression, anxiety, and low self-esteem.
Fat gain in the belly
A person may gain a large amount of visceral fat around the organs in their belly. This causes the abdomen to look swollen and feel hard. (If the abdomen is soft or doughy, it probably has nothing to do with HIV or its treatment.)
Gain in visceral fat can prevent organs from working properly. This can affect how sugar and fats are processed in the body. Some people also show an increased amount of fat (called lipids) in their blood, particularly cholesterol and triglycerides. Increased cholesterol can raise the risk of a heart attack or stroke. Increased triglycerides can raise the risk of damage to the pancreas.
Blood sugar levels may go up, and the body may become less sensitive to insulin. This can lead to diabetes.
Possible changes in body fats and sugars:
changes in cholesterol ("bad" LDL cholesterol goes up, "good" HDL cholesterol goes down)
increase in triglyceride levels
increase in blood sugar levels
less sensitivity to insulin
Exercise may be able to lessen the fat deposits around the gut. Diet can help lower the blood fats (cholesterol and triglycerides) that increase the risk of heart disease.
Fat around neck, shoulders, breasts, and face
Another change is fat buildup on the back of the shoulders and neck (sometimes called a "buffalo hump"). Fat on the back of the neck doesn't raise the risk of heart disease but can cause headaches and sometimes problems with breathing and sleeping.
Fat gain can make breasts bigger, which can cause back pain. Women seem more likely than men to experience greater fat gain in the breasts and the abdomen.
Fat accumulation also can make the face appear fuller.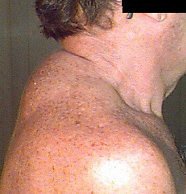 Fatty bumps on the body
Little fatty bumps called lipomas can appear under the skin anywhere on the body.