for

Health Care Providers
Anal Dysplasia
Note: Some medications mentioned in this chapter may not be available on the VHA National Formulary. Consult VA pharmacists for alternatives.
Key Points
HIV-infected patients are at much higher risk of developing squamous cell cancer of the anus (SCCA) than the general population and have a poorer 5-year survival rate once it is diagnosed.
At-risk populations include all HIV-infected men and women, particularly MSM (with or without HIV infection), any patient with a history of anogenital condyloma, and women with abnormal cervical or vulvar histology.
All at-risk men and women should be screened for anal cancer at baseline and annually thereafter by digital rectal examination (DRE). Some specialists recommend an anal Pap smear, if available, at baseline and annually thereafter.
All patients with abnormal cytology of any degree should be referred for high-resolution anoscopy (HRA) and biopsy.
Background
Anal dysplasia denotes precancerous changes in the squamous cells lining the anus. It is associated with human papillomavirus (HPV) infection. Neoplastic changes begin in the basal cell layer of the anal squamous epithelium, at the transformation zone. If untreated, anal dysplasia may progress over time to SCCA.
Anal HPV infection and dysplasia are analogous to cervical HPV infection and dysplasia; much of the model for evaluation and management of SCCA is based on cervical cancer screening and management. However, no large studies to date have shown that detection and treatment of precancerous anal lesions prevent anal cancer.
HIV infection is associated with increased rates of anal HPV infection, anal dysplasia, oncogenic HPV types, and SCCA.
The relative risk of SCCA among HIV-infected individuals compared with the general population ranges from 33 to 222, depending on the cohort.
The rate of SCCA is 2-3 times higher in HIV-infected MSM than in HIV-uninfected MSM.
Rates of anal HPV infection and abnormal cytology increase with decreasing CD4 counts.
HIV-infected persons with SCCA are an average of 10 years younger at presentation than HIV-uninfected persons with SCCA.
HIV-infected persons with SCCA have similar treatment responses compared with HIV-uninfected patients but an increased risk of recurrence.
ART does not appear to decrease development of AIN or improve SCCA outcomes. The long lead time between HPV infection and the development of cancer allows for screening and intervention. The value of screening and treatment of anal dysplasia is under investigation.
Veterans with HIV*
Squamous cell cancer of the anus: 1%
Evaluation
Risk factors
Populations of HIV-infected persons at highest risk of HPV infection and anal dysplasia include:

MSM
Persons with a history of anal receptive intercourse
Persons with a history of anogenital condylomas
Women with abnormal cervical or vulvar histology
Smokers

Symptoms

Rectal bleeding is present in 45% of patients with SCCA.
Sensation or pain associated with a rectal mass is present in 30% of patients with SCCA; pain may occur with defecation or with receptive anal intercourse.
Pruritus or anal discharge is present in 25% of patients with SCCA.
Up to 56% of early anal cancers detected by clinicians were asymptomatic. Dysplasia usually is asymptomatic.

Physical examination

Check perianal skin for external lesions.
Conduct DRE to check for masses and other lesions.
Check inguinal lymph nodes for enlargement suggesting spread (hard, fixed, progressive).
Screening
Summary of Evaluation for Anal Dysplasia
At baseline and annually:
Ask about symptoms (eg, mass or rectal bleeding).
Examine perianal skin and inguinal lymph nodes.
Screen for dysplasia: anal Pap test (where available) using smear or liquid cytology (see below).
Screen for cancer: DRE
Routine screening for anal neoplasia is not yet universally adopted for a number of reasons:
There is a lack of randomized controlled trials demonstrating that early diagnosis and treatment of anal intraepithelial neoplasia (AIN) leads to decreased rates of anal cancer.
Infrastructure for reading anal Pap smears, and for evaluating and treating abnormal anal findings, is not available in many clinics.
The sensitivity and specificity for anal Pap smears has been variable. The sensitivity of anal Pap smears has ranged from 69% to 93% and the specificity has ranged from 32% to 59%, compared with diagnosis by HRA-directed biopsy samples. This poor correlation between Pap smear results and biopsy results necessitates that high-resolution anoscopy be available to follow up abnormal Pap smear findings and evaluate for high-grade dysplasia.
Treatments for HIV-related anal dysplasia have shown mixed efficacy.
However, accumulating evidence and clinical experience support screening for and treatment of precancerous lesions.
Cohort studies show that early detection of anal dysplasia may be beneficial because identification and treatment of small, localized lesions lead to better morbidity and mortality outcomes.
A recent analysis of SCCA outcomes in the general population showed that the 5-year survival rate for patients with local disease was 78%, compared with 56% for those with regional disease and 18% for those with distant disease.
One small study showed that early detection of anal dysplasia with anal Pap smears was cost-effective.
Anal Pap tests: Currently, there are no universally adopted guidelines for anal dysplasia screening. Many specialists recommend screening all at-risk men and women at baseline and (if normal) annually thereafter.
Anal Pap Test Procedure
Moisten and insert a Dacron (polyester) swab into the anal canal about 4-5 cm (past the anal sphincter and transformation zone), rotate around the anus to collect cells while removing the swab, while maintaining gentle pressure against the anal canal. Proceed to slide or liquid prep:
Glass slide prep cytology: Rotate the swab on labeled glass slide, apply fixative, and allow it to dry.
Liquid prep cytology: Insert the swab into the liquid fixative, swirl around for 15 seconds, remove, and cap the jar. This method avoids drying artifacts.
Anal Pap smears should be read by a pathologist trained in their interpretation. Anal cytology is generally graded using Bethesda 2001 criteria, which are ordered as follows:
Negative for intraepithelial lesion or malignancy
Atypical squamous cells of undetermined significance (ASCUS)
Atypical squamous cells, cannot exclude HSIL (ASC-H)
Low-grade squamous intraepithelial lesion (LSIL)
High-grade squamous intraepithelial lesion (HSIL)
SCCA
LSIL is sometimes referred to as grade 1 anal intraepithelial neoplasia (AIN 1), whereas HSIL may be referred to as AIN 2 or 3, carcinoma in situ, or Bowen disease.
Management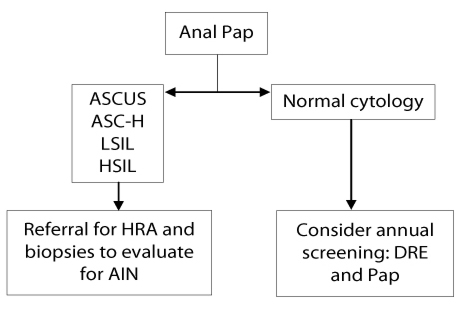 Any patient with abnormal cytology (ASCUS, ASC-H, LSIL, HSIL) should be referred for HRA and biopsy of visible lesions.
Note that ASCUS and LSIL findings on cytology do not rule out the presence of HSIL or cancer; follow-up evaluation with HRA is important, especially given the known discordance between cytology and biopsy results.
If HRA is not available at a local VA facility, one option is to refer the patient to a local non-VA provider on a fee basis; a list of anal dysplasia specialists in the United States can be found at http://www.analcancerinfo.ucsf.edu/resources/index.html

.
If HRA cannot be obtained, regular anoscopy can be performed to look for visible lesions. Biopsy should be performed on lesions to determine the degree of histologic changes and rule out invasive cancers. Note that anoscopy is likely to be insensitive.
Treatment
There currently are no consensus treatment guidelines. The treatment options presented here are based on expert opinion. The decision to treat should be based on biopsy (not cytology) results. The focus of treatment is on high-grade, precancerous lesions. Most experts agree AIN grade 2 or 3 lesions should be treated. Lower-grade lesions typically are monitored with serial HRA exams.
Treatment Options for Anal Dysplasia
Biopsy Findings
Treatment Options
Low-grade lesions (AIN 1)

Monitor via HRA every 6 months until normal twice in succession, then annual Pap smear.
Topical treatment (see below) may be indicated for symptoms such as bleeding, itching, or burning; or for discrete lesions.

High-grade lesions (AIN 2 or 3)
Topical therapy
For small lesions (<1 cm2 at the base):

Local application of bichloroacetic acid or 80-90% trichloroacetic acid (well-tolerated but occasionally painful)
Liquid nitrogen

Other topical, self-applied options studied in small cohorts include:

Topical imiquimod applied for 6-10 hours then washed off, TIW for 16 weeks
Topical 5% 5-fluorouracil applied BID for 16 weeks
These sometimes are used to treat diffuse lesions

Infrared coagulation (office based)

For lesions too large for topical therapy
Followed by debridement of destroyed tissue using biopsy forceps
Note: this treatment is not yet FDA approved

Surgery and CO2 laser ablation

For large (>1 cm2) or extensive lesions, or for patients unable to receive infrared coagulation
Surgical excision with a scalpel for discrete lesions with or without laser ablation
Large lesions may require multiple, staged procedures to reduce risk of bleeding, anal stenosis, sphincter compromise, and infection
Referrals should be made to surgical centers with experience in treating anal dysplasia

Follow-up HRA should be done every 6 months
SCCA
Full discussion of anal cancer is beyond the scope of this chapter, but special points are noted below:

Clinical staging consists of physical examination and biopsy of the primary tumor, palpation of the groin, CT of the chest, and CT or MRI of the abdomen and pelvis
Staging is based on size of tumor (T1-4) and node positivity (N0-3 for nodal metastases) and correlates with 5-year survival rate
First-line treatment consists of chemoradiotherapy rather than surgery
Prevention
The quadrivalent HPV vaccine has been approved for use in men and women aged 9-26 to prevent anal cancer, as well as to prevent cervical cancer and genital warts. Evaluation of the efficacy and safety of HPV vaccination in HIV-infected individuals, including those over the age of 26, is ongoing.
References
Berry M, Jay N, Cranston R, et al. Progression of high-grade anal intraepithelial neoplasia to invasive anal cancer among HIV+ men who have sex with men. In: Program and abstracts of the 16th Conference on Retroviruses and Opportunistic Infections; February 8-11, 2009; Montreal. Abstract 867.
Chiao EY, Giordano TP, Palefsky JM, et al. Screening HIV-infected individuals for anal cancer precursor lesions: a systematic review. Clin Infect Dis. 2006 Jul 15;43(2):223-33.
Chiao EY, Giordano TP, Richardson P, et al. Human immunodeficiency virus-associated squamous cell cancer of the anus: epidemiology and outcomes in the highly active antiretroviral therapy era. J Clin Oncol. 2008 Jan 20;26(3):474-9.
Chin-Hong PV, Vittinghoff E, Cranston RD, et al. Age-specific prevalence of anal human papillomavirus infection in HIV-negative sexually active men who have sex with men: the EXPLORE study. J Infect Dis. 2004 Dec 15;190(12):2070-6.
Frisch M, Biggar RJ, Goedert JJ. Human papillomavirus-associated cancers in patients with human immunodeficiency virus infection and acquired immunodeficiency syndrome. J Natl Cancer Inst. 2000 Sep 20;92(18):1500-10.
Kreuter A, Wieland U. Human papillomavirus-associated diseases in HIV-infected men who have sex with men. Curr Opin Infect Dis. 2009 Apr;22(2):109-14.
Palefsky J. Human papillomavirus infection in HIV-infected persons. Top HIV Med. 2007 Aug-Sep;15(4):130-3.
Salit IE, Lytwyn A, Raboud J, et al. The role of cytology (Pap tests) and human papillomavirus testing in anal cancer screening. AIDS Jun 1;24(9):1307-13.