for

Health Care Providers
Perspective from David Rimland, MD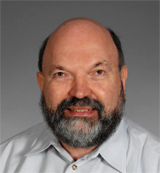 I entered the field of Infectious Diseases in 1977 with my first, and only, job at the VA in Atlanta. My Chief of Medicine thought that I should have some sort of outpatient clinic--this usually meant seeing one or 2 patients a week with unusual problems. When I saw my first patient with HIV disease in 1982, I thought it might be important to start a clinical database to follow these patients. Thirty years later, the clinic now meets daily and has the largest HIV workload of any VA in the country. Our database now has longitudinal data on almost 3,700 patients seen at our facility. We have been fortunate to have the support of a large number of volunteer physicians from the CDC helping us provide care to our patients. I'm sure they gained a lot from our interactions and their exposure to patients. I could never have predicted that my career would follow this route, but it has been an incredible journey.
For many years, the intellectual challenge of HIV disease was weighed down by the incredible burden of severe illness and lives lost. With the introduction of effective therapy in the mid-1990's, everything changed. The appearance of patients and the mood in the clinic brightened considerably. The ability of the VA to care for patients, offer appropriate laboratory testing and provide medications allowed us to act as true clinical providers, not worrying about access to care or the potential cost of drugs.
I find myself very fortunate to have entered this system at a time that provision of care has made such a dramatic impact on the morbidity and mortality of our patients. Things are changing now--comorbid conditions and aging are dominating the care we now provide our patients. Many of us have had to go back and remember how to be good internists. HIV has clearly become a chronic disease, but one that is clearly manageable. It has been quite a trip, but a very satisfying one.