for

Health Care Providers
Perspective from Janet Gearin, RN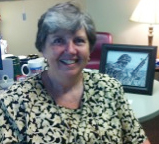 My VA career began in 1975 at a small VA Hospital in Muskogee, Oklahoma. I spent 4 years in Muskogee, Oklahoma, having been the first Mental Health Clinic staff member hired for that facility. In the fall of 1979, I moved to Tulsa where a second Mental Health Clinic was opened in what the VA would later refer to as a CBOC or Community Based Outpatient Clinic.
I remember hearing about a disease affecting gay men in 1984, but as a Psychiatric Clinical Specialist working in Mental Health, I did not think I would be affected in my specialty area. But then a Veteran came into my office and told me he was dying from some new disease and he did not know how to tell his parents that he was dying and that he was a homosexual. He died exactly 14 days later, leaving parents who were confused and devastated. My journey through the AIDS crisis had begun.
Our VA had no Infectious Disease specialists so in the early phase of the AIDS crisis, our primary care physicians consulted with local Infectious Disease Specialists who essentially "treated" our Veteran patients. Those were such desperate times. I encountered people filled with anger, hate, prejudice, discrimination, and fear who abandoned and rejected those with AIDS. But I also encountered people who were kind, compassionate, understanding and accepting and who were helping to care for those dying with AIDS. While my work was primarily outpatient level, I found myself spending hours in hospitals and homes talking with patients too ill to come into the office. There were a multitude of problems facing Veterans and civilians during those early years. Thinking back, I am again filled with great sadness for the emotional pain and suffering so many experienced. Thank goodness for some of my fellow VA nurses who volunteered their free time to help sit with our Veterans who were dying while in the VA hospital in Muskogee. I spent many hours "volunteering" to run support groups for Veterans, nonveterans, health professionals, parents, siblings, and friends. I did more grief work in those early years than I have in my whole career of 36 years.
In the past 12 years, I have become more involved with VA HIV/AIDS services at a national level. My participation within the VA system is due to one Dr. Lawrence "Bopper" Deyton. There are quite a few of us around the country that Bopper reached out to in "the field" as he called it. He would use us as sounding boards or to help identify problems in the field for Veterans with HIV/AIDS. Some of us worked on small task groups with a variety of projects focused on improving HIV care within the VA. I will always be grateful for that day in Dallas, Texas, when I met Bopper at a "Think Tank." I was given an opportunity to help make a difference.
Now 30 years later, I am no longer overwhelmed by grief and bereavement of patients dying. I am no longer enmeshed in a nightmare of seeing men and women waste away and die alone. I no longer see the isolation of those patients who were rejected by their families because they were gay and had AIDS. I no longer hear of a person who is fired from their job due to their HIV status. I no longer witness the caring for the sick and dying by those a bit less sick and a little further away from dying. Are there still some problems and issues remaining? Yes, but I also know there are some wonderful and great people still working on making things easier and better for the future. I tell my Veterans that while I have never been on a battlefield I do understand and know what it is like to be in a battle for life.