for

Health Care Providers
Perspective from Mark A. Beilke, MD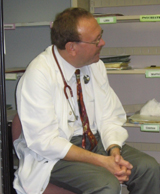 Reflections on Service to HIV-infected Veterans--a 30-Year Voyage
I remember seeing my first patients with AIDS while rotating as an intern through the open wards at the West Side VA Hospital in Chicago. Of course, in 1982 we didn't know what we were dealing with. Also it was hard to talk to patients privately because only curtains separated each patient. Once it became clear that many of the cases AIDS at that time were young men who reported having sex with men, these patients were sometimes shunned by health care personnel. The patients suffered not only from the agony of their illness but also from the demoralization they often endured.
My first experience with treatment of PCP pneumonia was in 1983. I administered pentamidine to the patient, a drug with which I was not at all familiar with. I understood that the drug could cause hypotension or even death if infused too rapidly. At that time, it was the job of the house officer at the VA to monitor vital signs and blood pressures; I recall my alarm when my patient's systolic blood pressure fell to below 90 and I had to halt the infusion and start a saline bolus to resuscitate the patient, who unfortunately died later that night.
I entered infectious diseases fellowship in 1985: a time when fellows had to get a lot of medications through so-called "compassionate use." Examples included ganciclovir for CMV retinitis for patients with progressive visual loss, ansamycin (a drug no longer used for treatment of MAC infection), and DFMO for PCP (another defunct drug that made patients sicker, not better). These were trying times for a disease which seemed relentless.
The most exciting part of my I.D. fellowship was to have the opportunity to prescribe for the very first time at the VA hospital in Milwaukee, a drug called "AZT." Then, you had to call the lab to see if the "CD4 machine" was available! My first patient happily took his AZT--then five times a day--but unfortunately for him, all of his muscles started to hurt. That was before we knew that we could get by with a lower dose.
My travels eventually took me to New Orleans, Louisiana, where I served as a virologist for the Tulane/LSU AIDS Clinical Trials Unit. I got to have my own panel of HIV-infected clients whom I treated up to, during, and after Hurricane Katrina. The vets drifted all over the place after the Hurricane. Fortunately for me, we were able to set up tents at the Baton Rouge VA Outpatient clinic, where my colleagues and I eventually tracked down many of our displaced patients.
Now, circling back to Milwaukee, Wisconsin, I supervise medical students, residents, and fellows at our Milwaukee VA HIV Clinic. When I tell these vignettes to the fellows, I can sometimes see great interest, sometimes boredom (I'm getting old and repeating myself too often). It has truly been a wonderful opportunity to now see, nearly 30 years later, Veterans living with the infection with fully undetectable viral loads, good immune systems, and enjoying happy and productive lives.