The HIV Care Continuum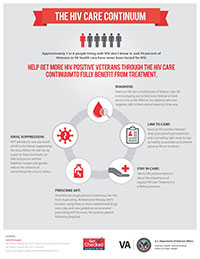 Approximately 1 in 6 people living with HIV don't know it, and 70 percent of Veterans in VA health care have never been tested for HIV. Help get more HIV positive Veterans through the HIV Care Continuum to fully benefit from treatment.
Diagnose
Make an HIV test a routine part of Veteran care. VA is encouraging you to test every Veteran at least once in his or her lifetime. For patients who test negative, talk to them about keeping it that way.
Link to Care
Have an HIV positive Veteran? Help your patient get treatment and counseling right away to stay as healthy as possible and prevent passing HIV on to others.
Stay in Care
Talk to HIV positive Veterans about the importance of regular HIV care. Treatment is a lifelong process.
Prescribe ART
Antiretroviral drugs prevent a retrovirus, like HIV, from duplicating. Antiretroviral therapy (ART) involves using three or more antiretroviral drugs every day and new guidelines recommend prescribing ART for every HIV positive patient following diagnosis.
Viral Suppression
ART will lead to very low levels of HIV in the blood, suppressing the virus. While HIV will not be cured, at these low levels, an infected person will live healthier, longer, and greatly reduce the chances of transmitting the virus to others.
Sources
www.hiv.va.gov
HIV Testing Calendar Year 2013--Veterans Integrated Service Networks
HIV Testing Calendar Year 2013--Standing
Clinical Care Registry: National HIV Registries Reports: 2013